We're 8 months into this parenting gig, and let me tell you—we've learned a LOT since M was born. Our months have been full of highs and lows (not too many lows, fortunately), sleepless nights and nights where we all got lots of sleep.
There are a handful of things I plan on doing differently the next time around, and of course, some things I plan on doing the same way. Don't get the idea that 2.0 will be showing up anytime soon…I do NOT want to have 2 under 2!
Things I'd do the same:
1. DO WHATEVER IT TAKES TO MAKE THE BABY SLEEP – Yes, that deserved to be in all capitalized letters. Baby wants to be swaddled/swung/bounced/wore for naps? WE WILL DO IT. Baby wants to nurse to sleep? I'll do it. I don't care how the baby sleeps, I just want her to sleep. We started a bedtime/naptime "routine" around 3 months old and stick to it for the most part but if it doesn't work, we do what it takes to make her sleep. Our routine includes nursing to sleep for naps, and daddy rocks her to sleep at night time. I know not everyone agrees with this, but it works for our family.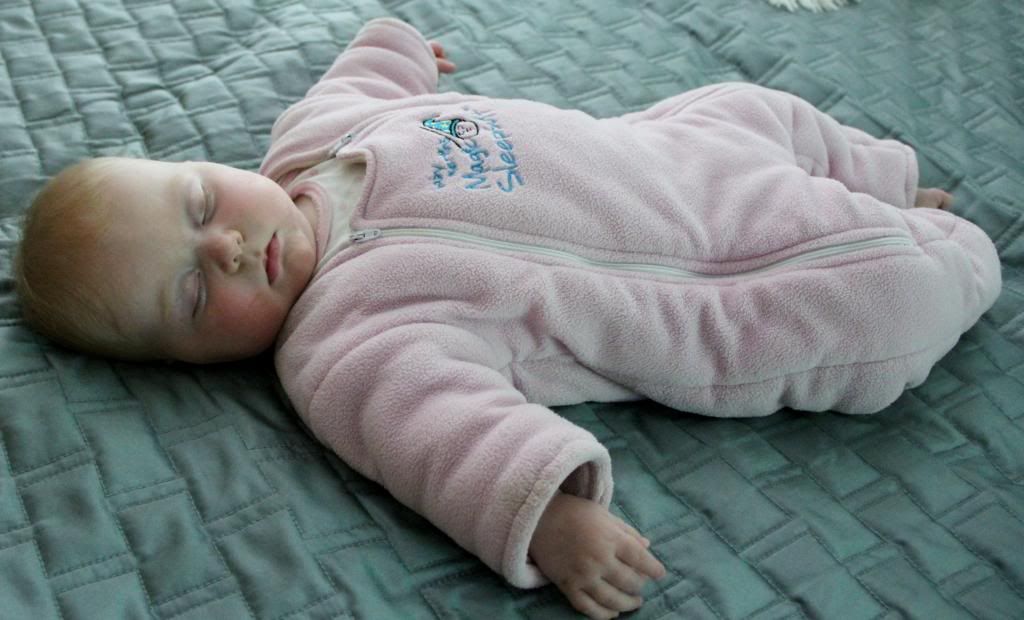 Someone is now addicted to her Baby Merlin Magic Sleep Suit, but WE DO WHAT IT TAKES.
2. Cloth diapering – We started when M was about 7 weeks old and I intend to start even earlier next time. I love cloth diapering and it works well for our family, so we will definitely continue it with the next baby. I plan on purchasing some Alva Baby Newborn Diapers so that we can start as soon as we come home from the hospital (we had 4 of these diapers with M and were pleased with them).
3. Exclusively breastfeed – I'm fortunate that I've got a good supply, I like breastfeeding, and it's easy for me (now). I plan on EBFing all of our children, though I hope maybe the next one will take a bottle on occasion.
4. Make a ton of freezer meals – I'm not sure if I mentioned this before, but I made 30 meals and froze them. This was a LIFESAVER for us. Our sweet friends set up a Care Calendar for us and quite a few people signed up to bring us food or have it delivered t us, but the nights we didn't have food, we just threw something in the oven. We made manicotti, lasagna, tacos, quiche (which didn't freeze well), stuffed shells, chicken and dumplings, tomato basil soup, and more. We ate our last freezer meal when M was 2.5 months old. Even now I stll try to have a few freezer meals for those nights that we don't feel like cooking.
5.Taking lots of photos – I have nearly 2000 photos of M's first 8 months. I love taking photos and plan to continue lots of photos throughout her life and whenever we have another baby.
Things I'd do differently:
1. Nix having baby sleep in the pack and play – We were all about keeping M in our room for at least the first 6 months, and then we'd continue it as long as it worked for all of us. At first, we had her in the pack and play, then moved her into her crib (both in our room). Now, her crib is side carred to our bed. With the next kiddo, I plan on having him/her in the sidecarred crib from the start.
2. I won't put the baby in the swing and wonder why she didn't just fall asleep – Um yeah, that happened when M was 4 days old. I thought all babies just loved swings and fell asleep the second it was turned on. Yeah, maybe some babies do that, but not M. She has always hated all contraptions meant to lull babies to sleep.
3. Learn how to use the car seat before the baby is born – I thought I knew how to use the car seat before M was born. I did not. We definitely had the chest clip too low and a little too loose until she was about 5 weeks old. I'm thankful nothing bad happended and now we know how to properly use the seats. Seriously, if you have a baby or are expecting and aren't sure about car seat safety, take an hour or two and learn how to properly use it. I thought we knew how to use it, but we didn't.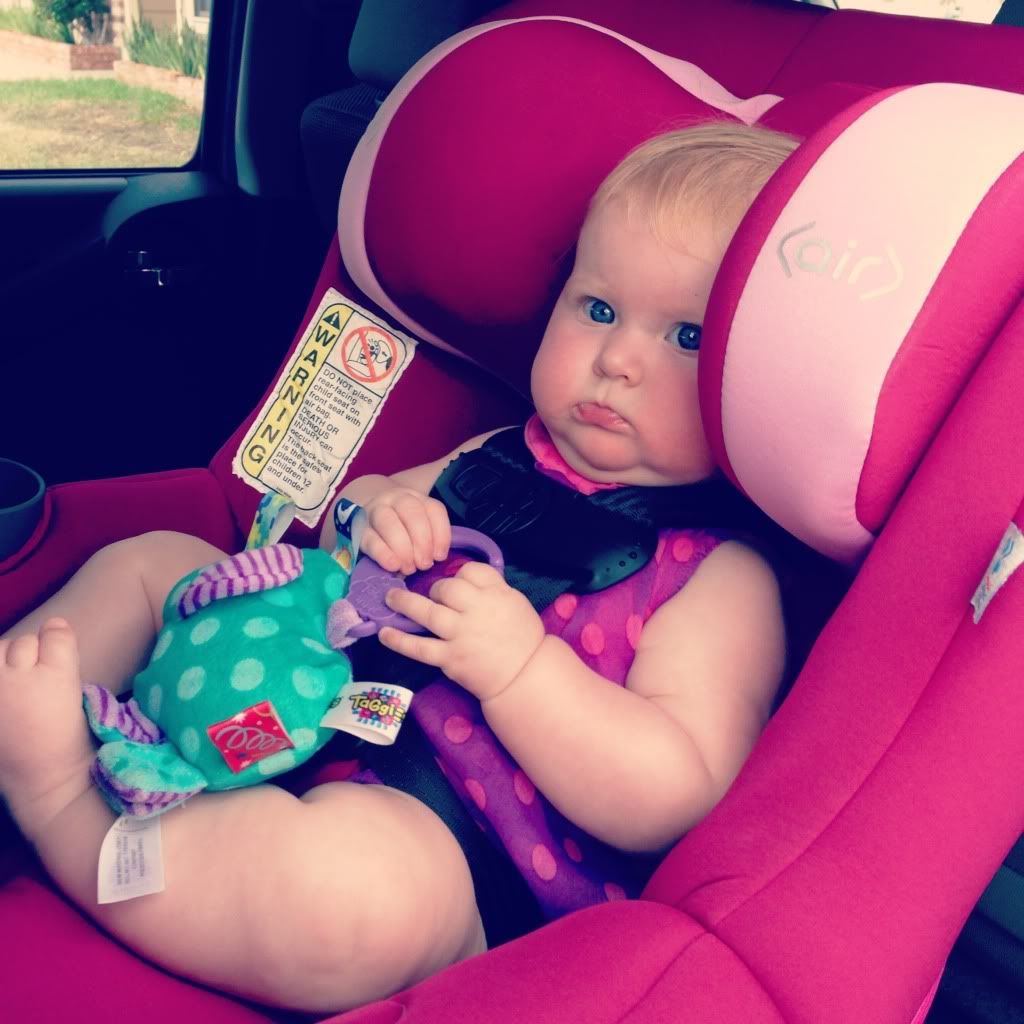 M in her big girl car seat (Maxi Cosi Pria 70), tight straps, chest clip in the right spot.
4. Get out of the house – Since M was born over Thanksgiving weekend, we had people at our house every single night except for 3 nights until New Years Eve. It was madness! I didn't get out of the house much since I had a ton going on, and that worked fine. But after the guests were gone, it was just me and M during the day. Luckily, I had a group of mom friends who I met while I was pregnant and I quickly started getting out with them a few times a week. It was a HUGE help and made me feel human again. I'm hoping to NOT have another holiday baby in the future, so we probably won't have as many visitors and I plan on getting out and about, with the baby strapped to me in a carrier, as early as I can.
Mommy friends—what about you? Will you do anything different if you have another baby?